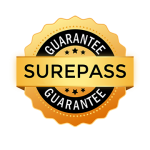 AspireRN will issue a one year online review program for free if the student has met the qualification requirements (as defined below):
Qualification Requirements:
1. A student is eligible to receive the SurePass Guarantee if: (i) the student has completed all the modules, video lectures, exams, practice tests, and test drills in the AspireRN SurePass course; (ii) the student has passed the AspireRN Predictor Exam at least once prior to taking the NCLEX exam; (iii) the student has been provided recommendation to take the exam by an AspireRN mentor after thorough review of the student's performance and predictor exam result; and (iv) the student provides satisfactory proof, within 30 days of failing the NCLEX exam, that the student took and failed the NCLEX exam on the student's first attempt. A student may provide satisfactory proof via email to admin@aspirern.com.
2. Upon meeting the Qualification Requirements, AspireRN will provide the student with the SurePass Guarantee within thirty (30) days of the subscriber meeting the Qualification Requirements.
3. Student acknowledges and agrees that the SurePass Guarantee is issued on a one-time, per student, and per enrollment basis and is valid only for student's first subscription in aspirern.com. Subsequent subscriptions are not eligible for the Surepass Guarantee.