Apply for NCLEX in 3 Easy Steps!
Apply for NCLEX in 3 easy steps!

The first step to start your nursing career in the United States of America is to take and pass the National Council for Licensure Examination for Registered Nurses (NCLEX-RN).
The process from the application to sitting for the exam is complex and may take months to finish. But in this article, I have summarized it into 3 easy to understand steps. It will be followed by a detailed discussion of each section.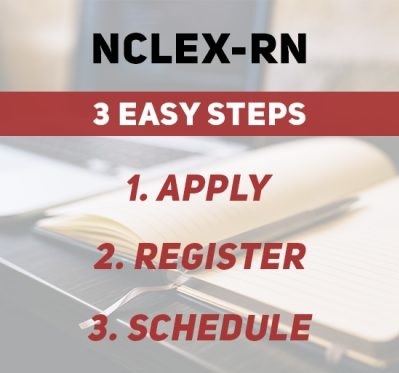 STEP 1: APPLY
This is the most confusing part as the boards of nursing from the different states and territories have varying requirements and fees. Some state boards are strict and may require you to pass the CGFNS exam, or have an SSN, or even take an English Language test for foreign educated nurses (RNs who graduated from a nursing degree outside the US, regardless of citizenship status).
The application section is divided into two major parts:
a. Credential Evaluation
This is required by most boards of nursing to verify the authenticity of your education, professional license and or English exam scores. This takes about 2-3 months and is most commonly provided by the CGFNS. The service fee is $350. For more info, click here.
Keep in mind that the CGFNS Credential Evaluation Service (CES) is different from the CGFNS Certification Program (CP Exam). The former doesn't require you to take the exam and only needs your documents. Some boards may require you to pass the CP Exam in lieu of the CES.
There are boards who require neither the CES nor the CP Exam. Examples are the California and Northern Marianas board.
b. Board Application
Once your CES is already being processed, you may start to apply and fulfill the board requirements. Some boards now offer online application while most still rely on paper processing. Forms may be downloaded or requested from the board website.
Here are the most common board requirements (depending on which state you choose):
Application form
Fees (ranging from $40-300)
Background check and fingerprint card
Seminars or CE units
English Exam Results (IELTS or TOEFL)
SSN
It is best to check with the board of your choice their specific requirements for Licensure by Examination. Remember that most boards have special instructions for Foreign Educated RNs which you must read carefully. For the complete list of the board website, click here.
There are Filipino nurses who would prefer applying to the state they target to migrate and work in the future. But since some states can take considerable time to approve your application, the best recommendation I can give is to pick a state which processes faster so you can take the exam without waiting for too long. And when it's time for you to go to the US, that's the best time to endorse your license to the state where you will work, and there is no need to take the exam assuming you have passed and had been licensed by another state already. 
Once you have satisfied all the board requirement, they will send to you an Eligibility email or letter which tells you that you are now eligible and may register to take the exam. Depending on each board, Eligibility may be valid from 1 year to 5 years.
STEP 2: REGISTER
Once you have been deemed eligible by the board, you will need to create an account with Pearsonvue and provide all the information needed. At this point, you will be required to pay $200 via credit or debit card. Then you will receive in your email the Authorization to Test (ATT) which is your permit to sit for the exam.
The ATT has an expiration date and is usually valid for 90 days. You must take the exam within these dates. Failure to do so will forfeit your payments and you might need to re-register. Some states have different ATT validity; for example, Texas has 75 days, and California has 1 year. To register for the exam, click here.
STEP 3: SCHEDULE
When you already have your ATT, you will be able to schedule your exam on any date you choose. The exam is administered in all Pearson Professional Centers across the United States and select international locations (including Manila, Philippines). When you choose to take the exam in facilities outside the US, you will be required to pay $150.
To schedule, log on to your Pearsonvue account and look for the schedule the exam option there. You may reschedule your exam anytime you want for as long as your ATT is valid. Keep in mind though that you must reschedule up to 24 hours before your exam. You may not reschedule an exam if you only have less than a day left.
RECAP:
Now, let's run-through what was discussed:
1. Apply for the exam.
Order a CES.
Complete the Board Application.
Receive your Eligibility letter.
2. Register for the exam.
Pay $200.
Receive your ATT.
3. Schedule your exam.
You are now done. Good luck on your exam!